Warsaw named European Best Destination 2023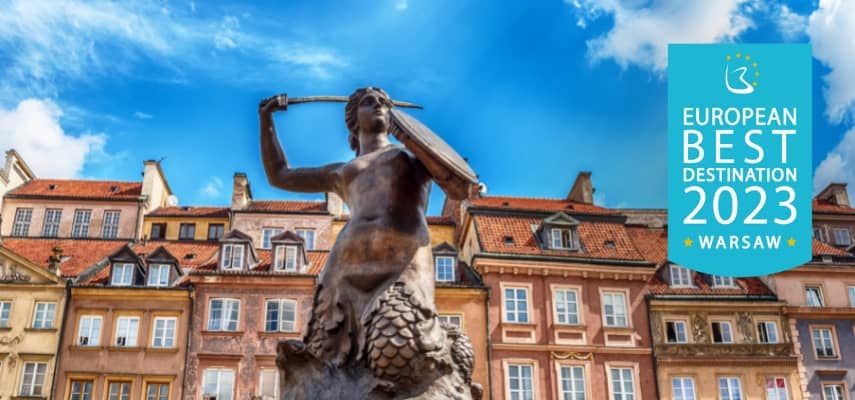 After receiving more than 140 000 votes and beating off stiff competition from 21 other nominated cities, Warsaw has been crowned European Best Destination 2023. The winning city was determined by internet users worldwide who voted in the competition. Warsaw received 142,000 votes, followed by Athens with 91,000 and Maribor with 68,000.
What makes Warsaw an ideal travel destination?
Warsaw is a perfect city for a family break, cultural exploration, shopping adventure, or romantic getaway. With beautiful parks and city beaches, there is something for everyone. The city boasts a fascinating history, modern museums and art galleries showcasing a range of local and international works. It's a dynamic and welcoming city, with a lively cultural scene and plenty of activities to enjoy. From street art to music festivals, there's always something going on.
Since Warsaw rebuilt itself after massive destruction in World War II, it contains an intriguing mix of architecture. The Old Town with plenty of historic buildings, the Palace of Culture and Science, and Łazienki Park with its palaces, pavilions, and orangeries, are some of Warsaw's iconic landmarks. The most picturesque streets in Warsaw, Krakowskie Przedmieście and Nowy Świat, and the historic Barbican are also not to be missed.
Warsaw is a vibrant city with a plethora of activities and experiences to offer. Warsaw's culinary scene is to be noticed. From traditional Polish dishes like pierogi and bigos to international cuisine, the city has something to offer every taste. Visit Hala Koszyki, a renovated market hall with a wide range of food options, or explore the Praga district for a more authentic local experience. For a unique experience, a cruise on the picturesque Vistula River is a must-try. For families, Warsaw Zoo and Moczydlo Water Park, with its slides, wave pools, and water activities, are great places to visit.
Overall, Warsaw is a city that offers a lot to visitors interested in exploring the local culture. The win is welcome news for Warsaw, as it will help rebuild its international tourist traffic after the losses caused by the COVID-19 pandemic, further exacerbated by Ukraine's conflict.
Recommended Warsaw tours